Turn private assets into digital assets
All types of tokenized assets
Tokenized assets: proprietary or external

Equity, debt, structured products, commodities, alternative assets and NFTs (e.g., art, music rights). Securities issued by yourself or already issued by your clients

Generic contracts: no limit

Able to issue, detect and process any type of smart contract on Ethereum (ERC20/721/1400/XXX) and Tezos (FA1.2/2.0)

DeFi embedded

Interact with the leading DeFi protocols (Aave, Compound, Uniswap and many others)

Automated: zero line of code

Templates and libraries available. Intuitive GUI and workflows. No engineering needed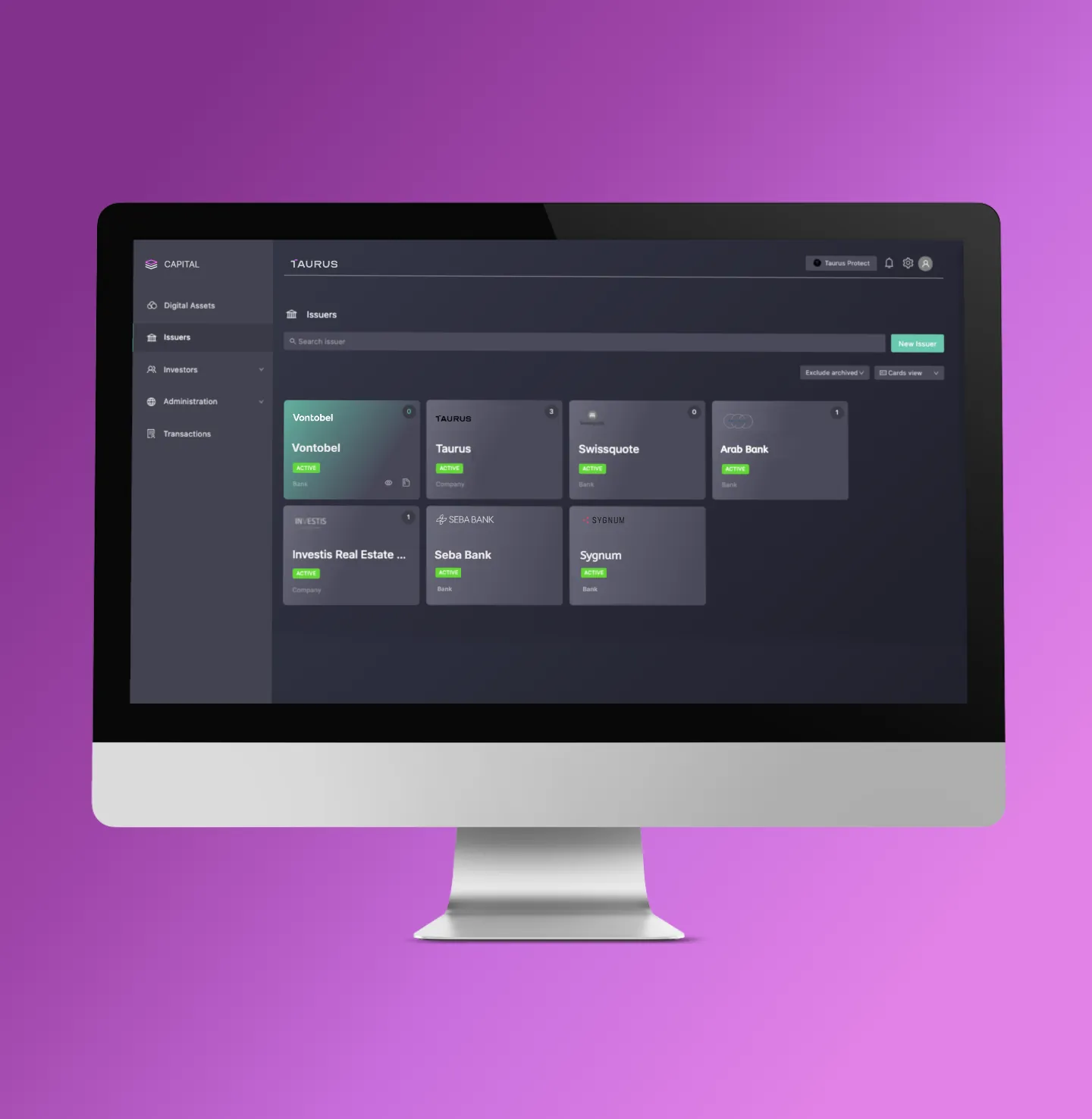 Capture the private assets opportunity
Solutions
Issue
Issuance Platform
Issue tokenized securities, NFTs and digital currencies
Tokenized securities
NFTs
Digital currencies
Equity, debt
Real estate, commo
Structured products
Stablecoins
Off-the-shelf
Proprietary
Manage
Lifecycle management
Automate any type of asset servicing operations
End-to-end asset servicing
Legal documentation
Investor management
Transaction management
Security holder registry
Security certificates
Transfer control
Upload
Smart contract engine
Upload and interact with any external smart contract
Example: Add DeFi protocol functionalities
Borrow | Lend

Swap

How it works
We are the only to have automated for banks and issuers any type of asset servicing operations. The combination of CAPITAL and PROTECT allows them to create, store and interact with "any" smart contract, as well as manage investors and products. All-in-one. The first of its kind.
Custody as it should be
Taurus CAPITAL is a front-to-back platform, fully integrated with Taurus PROTECT for end-to-end asset servicing: custody, issuance and transfer agency. You can issue, book, custody and transfer tokenized securities. The securities value chain is fully digitized.
Custody
Safekeeping, transfer / payments
Corporate actions, Proxy voting
Documentation / prospectus
Issuance
Multi-asset
Multi-blockchain
Transfer agency
Security holder registry
Security certificates
Transfer restrictions / control
Create products,
manage tokenized securities.
Create crypto-backed structured products
Manage tokenized shares
Automate asset servicing operations

"With Taurus, we have found a partner for our storage and tokenization solution that shares our ambitions to deliver best-in-class services and that meets our demanding technological requirements."
Guido Buehler
CEO of SEBA Bank AG
Read press release >
Tokenize shares and debt.
Create asset-backed tokens.
Tokenize in full compliance with Swiss law: equity and debt of Swiss and foreign corporations
Save time and cost: digitize your cap table, automate dividend payments
Unlock liquidity by admitting your tokenized shares on a regulated marketplace

"Taurus simplified the way we manage our shares: the digital cap table, instant shares transfers, combined with having absolute chain of title, is a game-changer. The tokenization process is smooth and fast, and we cannot imagine reverting back to the previous heavy administrative paperwork"
Alexandre Bonvin
Founder and CEO of Audacia Group
Read press release >
Add your DeFi protocol to Taurus platform. Seamlessly.
Bring new institutional users to your DeFi protocol with our seamless smart contract integration platform.
Secure your assets with defense in-depth security
Gain visibility with sophisticated financial institutions

"Taurus is a leader in onboarding banks to DeFi through its secure custodian and smart contracts platforms. We look forward to exploring further synergies with Taurus as the ecosystem grows."
Stani Kulechov
CEO of Aave
Read press release >