Unlock 3 new activities
Applications
PROTECT + EXPLORER
Securely store and manage the widest range of cryptocurrencies including staking. With real-time asset transfer, wallet monitoring, and counterparty risk management
PROTECT + EXPLORER + CAPITAL
Digitize and tokenize any type of asset on any standard. Upload and interact with any external smart contract or tokenized securities issued by your clients or partners
PROTECT + EXPLORER + CAPITAL
Digitally issue, book and transfer any stable coin or digital currencies and optimize your settlement process
Issue, book, transfer any digital asset
How it works for banks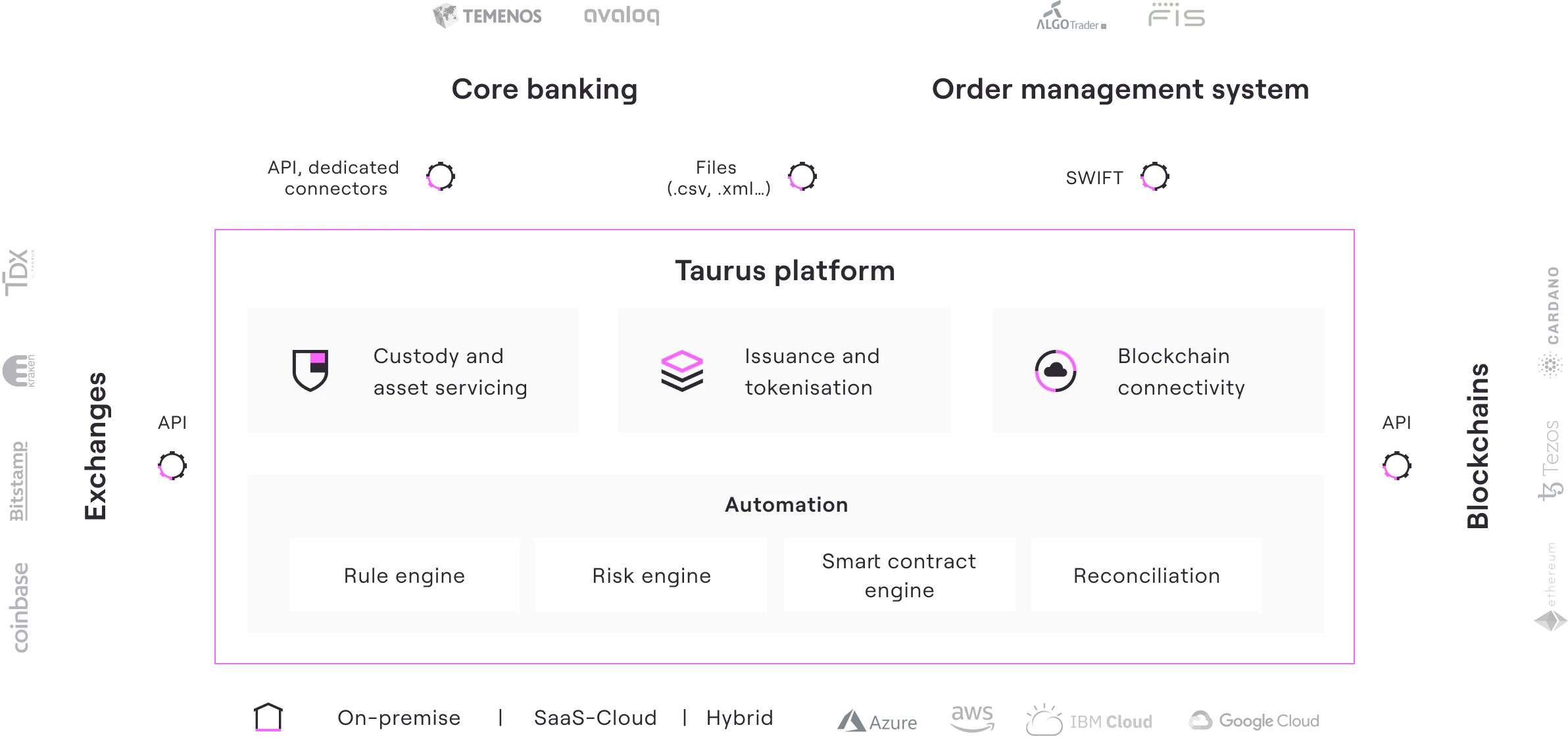 Capturing the digital asset opportunity
Benefits for banks
Additional revenue opportunities
40% of clients are considering buying cryptocurrencies
Gain new clients and retain current clients
Keep and grow assets under management (AuM) in the books by attracting private assets owners, entrepreneurs and investors
Make transactions and private assets bankable
Capture opportunities in the private asset segment
Invest in the local economy
Expand your Impact investing footprint
Benefits for other users
Stock, MTFs, OTFs & crypto exchanges
Expand to digital assets with the most advanced infrastructure in the market.
Asset owners and managers
Issue securities in 3 clicks and digitalize your processes. Make your private placements bankable and ready for easy secondary transactions.
Provide your clients with full coverage of traditional and blockchain-based assets. Integrate with all types of core-banking or book-keeping systems.
Founders, entrepreneurs (NFT, ecomm, gaming)
Power your back-end infrastructure, simplify fundraising and shares management for your start-up
Fast and flexible integration
Deployment model
10
Days

for simple integration
8
Weeks

for complex integration
On-premise
Deploy the full Taurus product suite within your infrastructure.
SaaS or Managed
Leave the full hosting to Taurus while still having the full control of your private keys, which Taurus never has access to. ISAE3402 Type II audited.
Hybrid
Best of both worlds. Keep the most sensitive items with you and leave the rest to Taurus. ISAE3402 Type II audited.
Compatible with any core banking system