At some point, the vast majority of private companies will seek external financing, with equity capital raising as a popular option. Despite its importance, the traditional equity capital raise method presents some limitations for issuers: a small network of professional private equity investors, cumbersome securities issuance, and a lack of secondary market solutions. In response, equity tokenization offers a practical solution as it enables non-listed, private companies to tap into new innovative financing models via a proven blueprint, opening their capital to investors by different means, and through different touchpoints.
Equity tokenization is the process of digitizing shares using distributed ledger technology, such as blockchain. Concretely, it means creating digital tokens that represent share ownership in a company, as opposed to physical certificates that require manual delivery and wet-ink signatures. Those tokens refer to ledger-based securities in the Swiss Code of Obligations, art. 973d. The transfer of such "tokenized" securities is time-stamped, publicly accessible on the ledger, and tamper-proof, with the personal data of the relevant holders protected by cryptographic means.
This approach is gaining momentum in local jurisdictions that recognize the legal value of these digital shares, such as Switzerland. It serves as a convenient avenue for capital raising, enabling businesses to issue shares as digital assets.
In this article, we'll explore equity tokenization and its impact on modern capital raising practices, as the processes of issuing, transferring, and trading equity have undergone profound changes. Our aim is to provide you with a comprehensive understanding of equity tokenization, including the key benefits and main processes necessary for a successful implementation. We will also delve into some real-world case studies conducted directly by Taurus or indirectly through Taurus custody and tokenization technology.
Benefits of equity tokenization
Equity tokenization offers several advantages:
1. Digital and programmable equity: Share transfers become instantaneous, and various functions can be programmed directly into the smart contract. This enables automated processes such as dividend payments or drag-along clauses, ultimately leading to time and cost savings for the issuer.
2. Instant booking and settlement: Ledger-based securities can be directly booked with banks (if they choose to do so). Blockchain technology further streamlines settlement times. Fewer intermediaries result in reduced associated costs.
3. Broader investor base: Private equity is hardly accessible outside of the institutional investment realm. Equity tokenization reduces barriers to entry and makes private equity accessible to a wider range of investors.
4. Secondary markets: Electronic trading becomes possible for issuers willing to provide liquidity to their shareholders and employees. This process makes equity more tangible, introduces new price discovery mechanisms, and enhances public transparency.
With these benefits in perspective, let's now take a closer look at the process that private issuers can follow to tokenize equity under Swiss law.
Proven process for equity tokenization under Swiss law
The Swiss industry has established essential standards, creating a well-defined regulatory framework for equity tokenization since December 2021, in collaboration with the Capital Markets and Technology Association. A step-by-step tokenization process for a capital raising exercise under Swiss law, leveraging the CMTA standard for tokenization of shares, could be outlined as follows.
Here, it's important to note that less complex exercises (without tokenization) are a subset of the process described below. For tokenization in other jurisdictions, it is crucial to seek guidance from a knowledgeable law firm.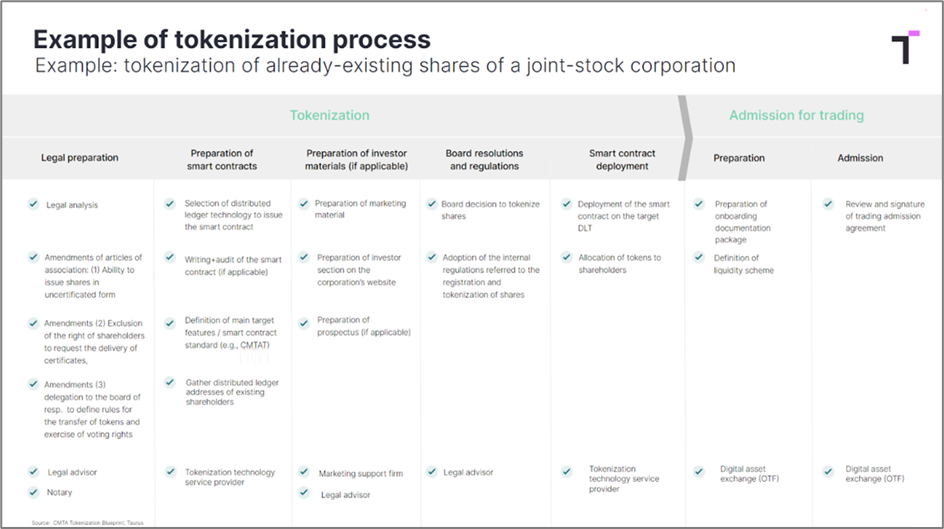 1. Legal preparation: Leveraging existing templates from the CMTA standard, start by adapting the corporation's articles of associations to encompass ledger-based securities as a valid securities form. Obtain Board of Directors' approval for tokenization rules and registration, referencing this standard.
2. Smart contract setup: Proceed by identifying audited smart contracts that align with regulatory requirements for ledger-based securities. In Switzerland, you can leverage the CMTAT standard; in other regions, you can adopt the local jurisdiction's standard if available. In the absence of one, the CMTAT serves as a solid foundation. Ensure the smart contract gains acceptance from any collaborating financial institution.
3. Investor material preparation: This is needed only if the issuer seeks to raise funds. Given the technology-neutral nature of regulations, this stage remains consistent regardless of security type (ledger-based or otherwise).
4. Board consensus and regulations: Building upon the first point, the Board should meticulously record a resolution to tokenize shares in line with the articles of association and tokenization regulations.
5. Trading admission preparation: Taurus operates a regulated trading platform sanctioned by FINMA. Issuers intending to participate should begin by opening an account within this organized trading facility.
Case studies: Successful equity capital raise with Taurus
Finally, let's explore real-world equity capital raises achieved with the assistance of Taurus technology. These examples demonstrate the tangible impact and applicability of equity tokenization.
QoQa Services SA: Direct tokenization
QoQa Services SA, a prominent Swiss e-commerce platform with ca. USD 170 million revenue in 2021 and a 800'000 strong community of customers, exemplifies the Taurus framework's potential. Seeking to tokenize shares of a subsidiary, QoQa engaged its community for capital raise. On 20 May 2022, the platform secured CHF 1.2 million from around 2,000 investors within 19 minutes, with 20 '000 interested investors in the queue. From a legal point of view, the fundraising process followed all applicable Swiss requirements and was advised by Vischer law firm.
QoQa utilized the comprehensive Taurus technology suite, including Taurus-CAPITAL for securities tokenization, Taurus-PROTECT for custody solutions, and Taurus-EXPLORER for seamless share transfers.
CODE41: Direct tokenization
Utilizing Taurus technology, CODE41 offered investors the opportunity to become shareholders through the issuance of participation certificates. This strategic move aligned the interests of investors with the company's mission and goals. The process involved utilizing the CMTAT smart contract template to tokenize the company's share capital on the Ethereum public blockchain. This transformation allowed CODE41 to extend its engagement with the community, reinforce transparency, and strengthen its commitment to its core principles.
Alaïa SA: Bank-sponsored tokenization
Alaïa SA, a Swiss action sports hub attracting 10,000 monthly visitors, successfully tokenized its shares with Taurus' assistance and in partnership with Credit Suisse. The process adhered to Swiss laws and CMTA standards, utilizing the Ethereum public blockchain. The full suite of Taurus products was integrated by Credit Suisse, enabling end-to-end digital management of Alaïa shares: tokenization and issuance via Taurus-CAPITAL, secure digital custody through Taurus-PROTECT, and real-time blockchain interaction using Taurus-EXPLORER.
---
For a deeper exploration of tokenization use cases, we encourage you to take a look at Tokenization: A Practitioner's Point of View.