Structured products are a diverse range of financial products and asset bundles that undergo securitization and are offered to investors. These products usually consist of assets, derivatives, and yield components, providing investors with the chance to predict specific returns if they hold the product until maturity.
Despite the ongoing evolution of financial markets, the structured products issuance processes have often remained anchored in the past. However, the advent of tokenization and digitization is now transforming these processes.
In this article, we will explore the challenges associated with the existing issuance processes and the significant benefits tokenization brings to structured product creation and issuance. We will begin by examining the example of the United States and then shift our focus to Switzerland, where we will analyze real-world use cases that demonstrate the successful trading and settlement of tokenized investment products using Taurus technology.
Challenges associated with current asset issuance processes in the US
In the United States, the issuance of structured products currently relies on physical documents and traditional bookkeeping systems. These products are subsequently traded on exchanges, with clearing and financial transactions managed through established systems like DTCC.
The entire process involves numerous complex steps, including structuring, issuance, distribution, listing, trading, custody, portfolio management, advisory, and market-making, each with multiple sub-steps. It is a labor-intensive, manual process, involving various stakeholders such as issuers, investment bankers, lead managers, syndicate members, asset managers, and regulatory oversight to ensure compliance with controls and regulations.
Despite the increasing demand for structured products, the market is hindered by outdated technology, giving rise to multiple challenges:
1. Manual and sequential processes
The current procedures for issuing securities rely heavily on manual and paper-based methods that follow a strict sequential and chronological order. Unfortunately, this sequential nature often leads to delays and increased costs, as it restricts the ability to complete steps asynchronously or effectively monitor the status of the process.
2. Lengthy clearing and settlement cycles
Another significant challenge is the extended clearing and settlement cycles. These processes are notably time-consuming, with timelines that can be quite extensive. In public markets, the settlement cycle typically spans T+3, while private securities settlement can stretch to as long as 10 business days. Such prolonged timelines result in financial costs and necessitate the locking up of assets in margin and collateral.
3. Data reconciliation complexities
The complexities of data reconciliation are also a persistent challenge. Despite continuous and redundant reconciliations, multiple versions of the truth continue to exist. These continuous reconciliations, both internally and externally, contribute to higher issuance costs.
4. Settlement risk
Settlement risk is a critical concern. This risk stems from upfront purchases, where payments are made in advance. However, account credits can be significantly delayed, introducing a level of settlement risk. Furthermore, counterparty risk is present on both sides as transactions remain open until a successful settlement cycle is achieved.
5. Lack of transparency
Transparency is another challenge in the current asset creation and issuance processes. There is limited transparency within these processes due to the use of various systems and a highly manual approach. The absence of an electronic audit trail makes tracing and observability extremely challenging.
6. Multiple intermediaries
Lastly, the involvement of multiple intermediaries adds complexity to the processes. Many intermediaries participate, especially as transaction parties collaborate to complete various aspects of the lifecycle. This complexity requires coordination with multiple third parties. In addition, the existing separation between the asset's definition and the rules governing workflows and lifecycle events requires coordination among these intermediaries, further complicating the process.
Now, let's explore how Distributed Ledger Technology (DLT) can address these challenges and benefit structured product issuance.
The benefits of DLT for structured product issuance
Blockchain technology has the potential to transform the issuance of structured products by replacing physical documents with fully digitized "smart" securities. These smart contracts, executed on a blockchain-based platform, promise greater efficiency by reducing the reliance on intermediaries. Built on distributed ledgers, they automate the execution of contract terms, confidentiality agreements, and corporate actions without the need for manual intervention. These contracts are pre-programmed with the contract terms, and their executions are initiated by transactions, reducing uncertainties and minimizing errors.
Distributed ledgers, which store the state and history of transaction records, use cryptographic techniques such as public/private keys and hash functions to secure assets and verify transactions. They can significantly enhance the recording of ownership and the security of assets, simplifying contract terms through increased automation. Blockchain technology enables the creation of shared reference data records that all participants can access, obviating the need for reconciliations and facilitating the implementation of unique security identifiers specific to structured products.
Blockchain further facilitates the direct issuance of digital structured products, fostering direct interaction between issuers, syndicate members, and investment banks on the platform. This streamlining process reduces manual intervention and transaction costs by eliminating intermediaries like issuing agents and custodians.
Let's now delve deeper into each of these transformative benefits:
1. Streamlined digital workflow
DLT introduces a digital paradigm where documents seamlessly integrate into the digital asset's definition. Multi-party workflows become concurrent and asynchronous, streamlining processes. This integration also brings forth clear roles, responsibilities, and terms, significantly diminishing administrative overhead and costs.
2. Swift and secure settlement
One of the most significant advantages is the assurance of transaction surety and atomic settlement, substantially mitigating settlement risk exposure. This outcome is achieved primarily through the use of smart contracts, which automate the execution of terms and conditions, resulting in dramatically faster and more cost-effective transaction processes. Presently, the standard settlement cycle for financial transactions typically stands at a minimum of T+1, contingent on the financial instrument in question, and there is a widespread expectation among market participants that settlements will reach a maximum of T+1 by 2026. This transition offers multiple benefits, including lower capital costs, reduced systemic risk through real-time settlement, and cost reductions in post-trade processes. These cost reductions include decreased margin requirements for exchange trades, streamlined manual activities, and the establishment of a single authoritative ledger.
3. Unified data source
DLT establishes a single, unalterable source of truth through a unified master book. This single source eliminates the need for additional services and providers while ensuring constant alignment and eliminating continuous reconciliation, vastly simplifying data management.
4. Risk mitigation and automation
DLT's capability to support atomic, simultaneous settlement enables real-time Delivery versus Payment (DVP) and Payment versus Payment (PVP). Full lifecycle automation, including specific conditions like locking, further reduces complexity and potential errors. The elimination of repetitive actions across disparate platforms minimizes risk.
5. Enhanced transparency
Enhanced transparency is achieved through the introduction of clear roles and responsibilities, including dedicated roles for observers and auditors. Improved visibility into an asset's position within the issuance lifecycle and immutable records providing comprehensive lifecycle records ensure traceability and provenance. The creation of a unified master book enhances transparency in the book-building process, almost making it real-time.
6. Streamlined intermediation
The simplification of processes across all parties allows for direct issuance of digital securities on a distributed ledger. This leads to accelerated matching of buyers and sellers, streamlined syndication and book-building processes, and the potential to reduce intermediary fees significantly. Programmable features automate processes like dividends, vesting, voting, and proxy material distribution, while the integration of lifecycle rules within the asset definition minimizes the need for separate platforms and intermediaries, particularly in corporate actions.
To gain a deeper understanding of how DLT can effectively address these challenges and bring substantial benefits to structured product issuance, let's explore a real-world case study involving Swiss financial institutions.
Case study: Successful structured product tokenization with Taurus
In December 2022, under the Swiss regulatory framework, Credit Suisse, Pictet, and Vontobel collaborated on a Proof-of-Concept to launch tokenized investment products. These products were recorded on the Ethereum public blockchain, utilizing Taurus' platform and CMTA's token standard for issuance, booking, and management.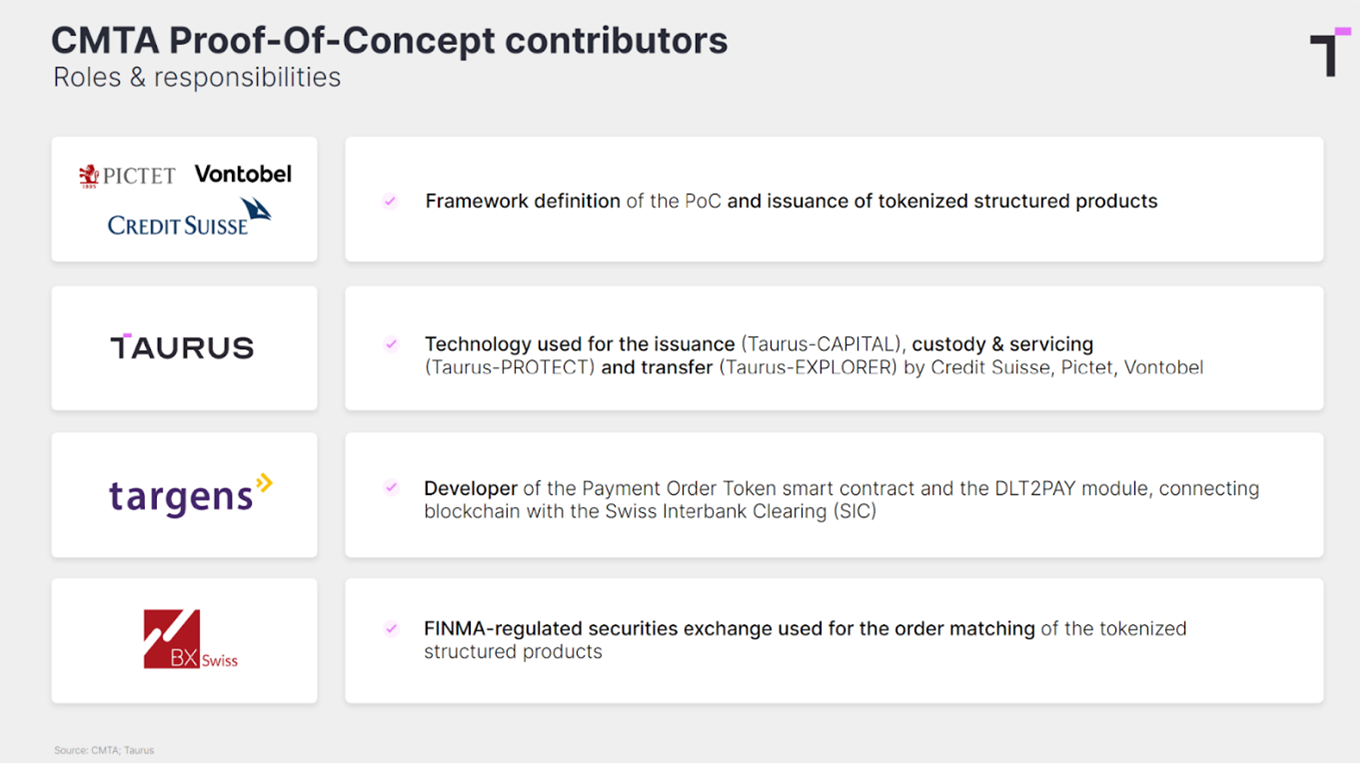 Specifically, they utilized Taurus-CAPITAL for issuance, Taurus-PROTECT for the custody and servicing, and Taurus-EXPLORER for transfers. To settle the tokenized securities in Swiss francs (CHF), they employed DLT2PAY, a module provided by Targens that seamlessly connects blockchain technology with the Swiss Interbank Clearing (SIC) system. This integration enabled efficient settlement in fiat currency, streamlining the transaction process.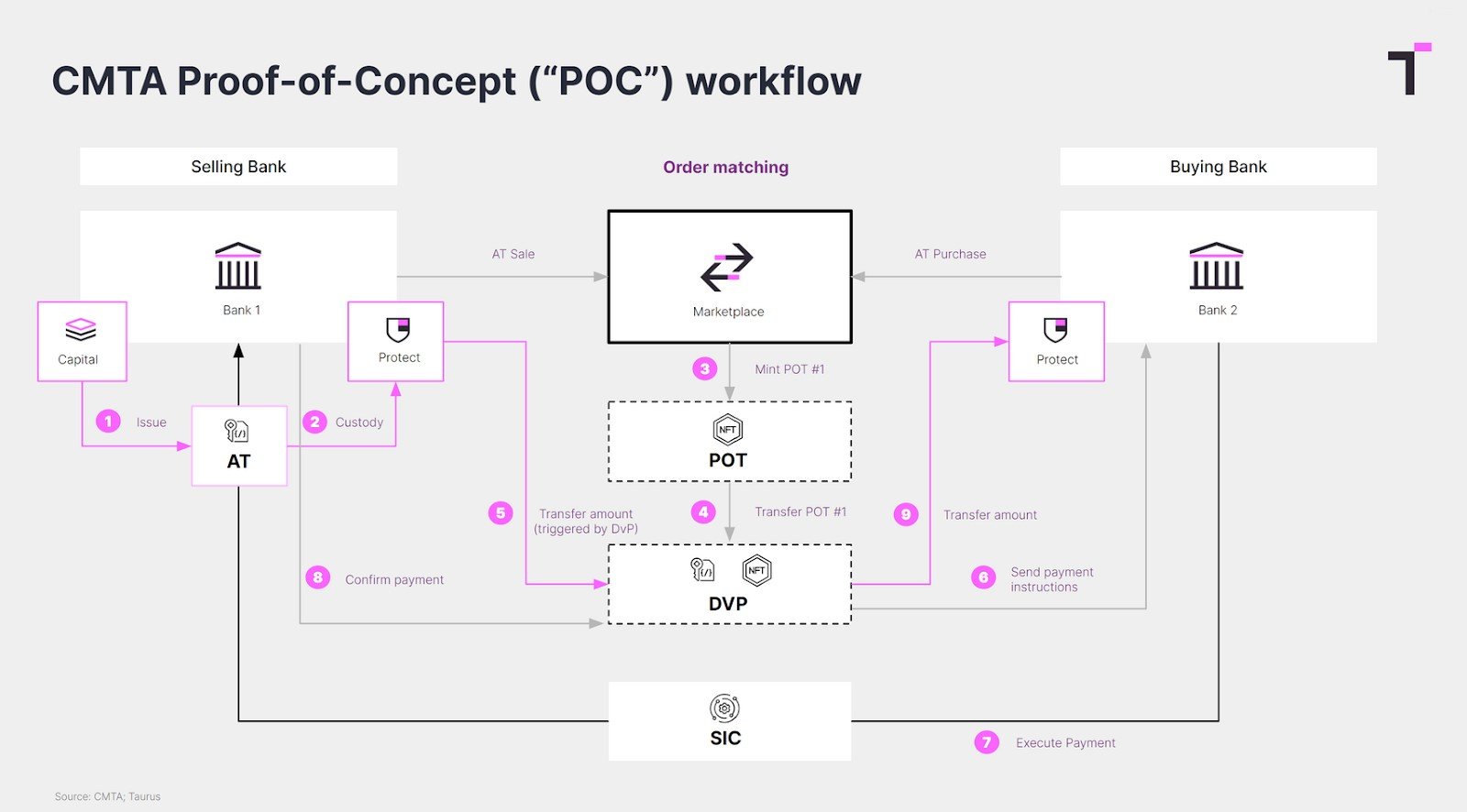 In the context of the Proof-of-Concept, three key smart contracts were employed. These included two new smart contracts (DVP and POT) in addition to an updated version of an existing contract (CMTATv2).
1. Delivery versus Payment (DVP)
DVP functioned as an "escrow" account in the transaction process. It received the Payment Order Token (POT) and transferred the Asset Token(s) from the seller's wallet to itself. It then initiated the payment promised by the POT. After confirmation of payment, DVP promptly sent the Asset Token(s) to the buyer's wallet. DVP's Sepolia deployment can be found here, along with the code.
2. Payment Order Token (POT)
The POT smart contract involved Non-fungible Tokens (NFTs) represented in the ERC-721 format, symbolizing a transaction or payment. It also included status indicators representing the payment's progress, such as PaymentInitiated or PaymentConfirmed. Upon successful payment, the NFT associated with the transaction was burned. The Sepolia deployment can be accessed here, along with the relevant code.
3. Asset Token (AT) - CMTA v2.1
The CMTA v2.1 smart contract was employed for the Proof-of-Concept. It handled fungible tokens represented in the ERC-20 format, signifying the tokenized asset, which in this case, pertained to structured products. The development of CMTA v2.1 was undertaken by Taurus. The Sepolia deployment can be accessed here, along with the relevant code. Notably, NFTs were mapped to the addresses of buyers and sellers as part of this contract's functionality.
---
As we continue to witness these real-world implementations, it becomes increasingly clear that DLT is reshaping the financial landscape, offering new avenues for improved transparency, security, and automation. To explore more tokenization use cases, we encourage you to delve into Tokenization: A Practitioner's Point of View.